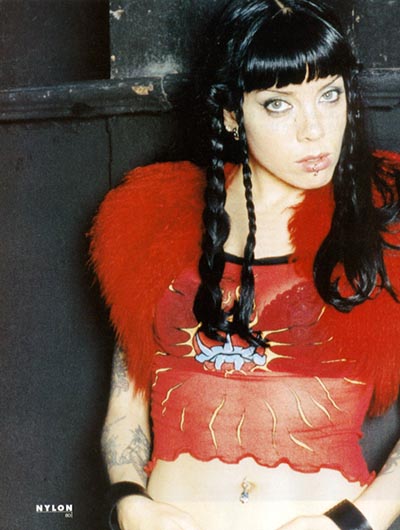 THE NAKED TRUTH

Nylon Magazine Jan 2000
Article By Ali Ribis. Photo by Micheal Wong

Though she may look a little tough, Bif Naked won't hurt you. Ali Ribis calms your fears

The first time I see Bif Naked in person, I'm petrified. At intial glance the tattooed leather-clad rocker emanates a rebel-girl persona that would make any saccharine Briteny Spears wannabe-as well as this journalist-run for cover.

"I was afaid you wouln't find me." she says, genty grabbing my hand. We're surrounded by suits in the lobby of New York's chic paramount hotel. "Can I buy you a cup of coffee?" she continues?



But wait? Where's the angst ridden rocker ready to kick butt?

"I love shopping. I'm a girly-girl." she gushes in a bubbly, high pitched voice. Suddenly the 29 year old Canadian singer seems more like the girl next door then a 90's Joan Jett. "People assume I'm a goth girl or a bondage girl because of the way I look. When I first started getting tattoo's, I was in a punk band and into that scene. But I've never been a confrontalist in my life, and never will be." Yet with in-you-face lyrics that delve into subjects like abortion and bi-sexuality, Bif is certainly not afraid to speak her mind.

This adopted daughter of two American missionaries dropped out of the University of Winnipeg in her first year to go on tour with a band called Gorilla Gorilla. That same year she changed her name from Beth Hopkins to Bif Naked; Bif was a nickname for Beth that she was given in high school, and Naked had no real origin but she thought it sounded "sexy and very punk rock."

"I discovered my calling." she says of joining the band. "I was a theater major so I got my stage performance bug out-but I did it through singing not acting."

Bif's lead-singer-on-tour lifestyle quickly spiraled into a rock star cliche of VH1's Behind the Music proportions. "I got married when I was 18." she says. "I wanted to be like Stephen and Elise Keaton from Family Ties and have kids like Mallory and Alex." But she jot divorced six months later. "My life was fucked." she recalls. "One majr thing was drinking." In an effort to get control, Bif went straight edge fve years ago. "It wasn't like I was physically addicted to drugs or alcohol, but once I stopped it was like the clouds lifted and everything seemed to fall into place. "

Falling into place is an understatement. After going solo in 1994, Bif released two albums four songs and a poem, and Bif Naked on her label Her Royal Majesty's Records. Her latest cd I Bificus is filled with ritous pop rock songs admittedly derivative of Courtney Love and Gwen Stefani, has made her an MTV-generation favorite. She toured with the Lilth Fair, and appeared on Buffy the Vampire Slayer and has a contract with the prestigious Wilhemina modeling agency.

"When I went to Wilhemina for a meeting, I got up to offer everyone coffee." she says. "I still think it's all a mistake."

But after being in the music business for just over a decade, Bif is savvier then she lets on. "It's lucrative." she says. "Brandy has a contract with Wilhemina and she's got a cover girl contract."

Could Bif be the next Cover Girl? Her aspirations do run high. "Someday I'll cut my hair and look like [Vouge Editor-in-Cheif}Anna Wintour. I'm a really young version of Anna....with tattoos."